Westmont Home

Emeritus Trustee sets up Charitable Remainder Trust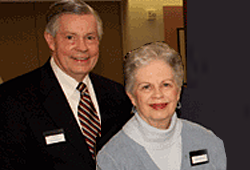 David and Carolyn Spainhour support Westmont as Wallace Emerson Society members After a long and respected career with Santa Barbara Bank & Trust, David Spainhour retired in 2004. He spent 37 years with the bank, rising to the position of president and CEO and later chairman of the board. In 2002, he also stepped down from the Westmont Board of Trustees after 11 years of service. While the pace of his life has slowed some, David's support for Westmont remains firm and deep. In 2003, he and his wife, Carolyn, created a charitable remainder trust with Westmont as a long-term investment in the college. With this provision, they joined the Wallace Emerson Society. "I encourage other friends of Westmont to consider a charitable remainder trust as a vehicle for giving," David says. "It makes so much sense for those with appreciated assets. Not only can you get a tax deduction and income during retirement, but you can support your favorite charity." David limits the distribution from his trust so the principal - and consequently the income - continue to grow. "It's a win-win situation for us and the college," he says. As a Westmont trustee and chair of the finance committee, David focused on two major fundraising goals: completing the campus and building the endowment. He appreciates the wealth of experience President Gayle Beebe brings to the challenges facing the college. "Because Westmont is relatively young, it lacks the endowment it needs to compete with comparable institutions - although it competes remarkably well given its limited resources," David says.
"But it's too dependent on tuition, and a larger endowment will provide an alternative source of revenue. "In addition, the campus lacks some of the amenities needed in a modern educational plant," he adds. "It's essential to complete the campus infrastructure to maintain the outstanding national reputation the college has achieved.
It's so important to have a Christian liberal arts college with a superior academic standing." Over the years, David has seen the college make a positive impact on the Santa Barbara community.
"We had a number of Westmont graduates come to work for the bank, which was always a good experience," he says. "There is such a high level of respect and regard for the college." "David has served on many boards, and I have felt especially included in activities at Westmont," Carolyn Spainhour says. "The college took us in as a couple, and I get excited about the school and what it is doing. I really enjoy the time I have spent on campus and the people I have met there. Westmont has really enriched our lives."
For more information about Charitable Remainder Trusts, please contact the Office of Gift Planning at (805) 565-6058 or
giftplanning@westmont.edu
.