Westmont Home

A Bequest Honoring the Gift of Education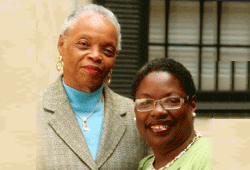 With years of experience in human resources, Denise Jackson '78 looks for certain qualities when hiring: integrity, a desire to learn and grow, and previous success. She doesn't seek people who put work at the center of their lives -she had to learn for herself the importance of a balanced life.
"Through some personal challenges, I recreated my life and got my priorities in order," she says. "I no longer define myself by my work. There are other things in my life that I want to do and be."
Denise has worked in human resources management at Neiman Marcus, Republic Pictures, Digital Domain and The Walt Disney Company. For 16 years, she has taught human resources classes for the UCLA extension program, which she loves.
Seeking antiques is another passion; Denise started collecting as a child. "I enjoy the hunt for that special item," she says. "I am always trying to refine my collection!"
To honor her father and mother, David and Anita Jackson, Denise has set up a scholarship in their name to be funded through her estate. "My parents are terrific people," she says. "I didn't want their work to go unnoticed. My mom is a retired teacher, and my dad, now deceased, owned his own business. Education was central in our family life and they educated three children. This is my way of demonstrating the magnitude of my gratitude for the gift of my education."
The scholarship will benefit students of color. Denise is thankful for her Westmont education and lifelong friendships, "So much of the woman I am today is a result of my rich Westmont experience."
For more information about bequests or scholarship endowments, please contact the Office of Gift Planning at (805) 565-6058 or
giftplanning@westmont.edu
.