Westmont Home

A Good Age for an Annuity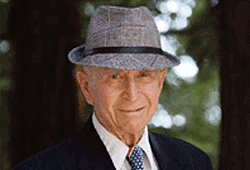 Frank Johnson '51 flew as a combat pilot during World War II, and the experience left him depressed and traumatized. In despair after several failed treatments, he picked up a Gideon Bible in his hospital room and began to read. "The Scriptures led me to rededicate my life to Christ and began my healing," he shared.
To study the Bible more effectively, Frank enrolled at Westmont and majored in ancient Greek history where "Westmont gave me a chance to turn my life around." He went on to complete a master's degree in religious education at California Baptist Seminary and a teaching credential at the University of Southern California, where he also earned two master's degrees in education and a doctorate in educational psychology.
He began his teaching career in San Marino, Calif., and became a school psychologist 13 years later. Moving with his family to Santa Barbara in 1968, he spent 20 years with school districts there and in Carpinteria, including 10 years as the chief psychologist. He retired after a long, productive career and continued to volunteer for his church and the Gideon Society.
Both of their children, Sharon Battles '71 and Paul '73, chose to attend Westmont. Paul serves as a Presbyterian minister in Danville, Va. Sharon was a teacher and writer who passed away in 1997 from bone cancer. After enjoying a strong and fulfilling 54-year marriage, Edie died in 2002 from Alzheimer's disease. Frank enjoyed a close friendship with his son-in-law, Barron Battles '71, who lives in Santa Barbara and works as a sculptor.
After the deaths of his daughter and wife, Frank got serious about planning his estate. When he sold his home and moved into a retirement center, he used the proceeds to fund charitable gift annuities with Westmont and Biola, Edie's alma mater. Frank received annual income for life, and the colleges received generous remainder gifts upon his death. At the time he funded the annuities, he reflected "I hope all alumni will consider what they can do for Westmont - they will benefit just as I have. I'm so thankful for the blessings of God in each step of my life." Westmont is grateful for Frank's life and the legacy gift he established with the college.
Learn more about the benefits of a charitable gift annuity on our website or contact Kati Buehler at (805) 565-6058 or at
giftplanning@westmont.edu
.